The home screen of the Shot Scope V2 looks like the below: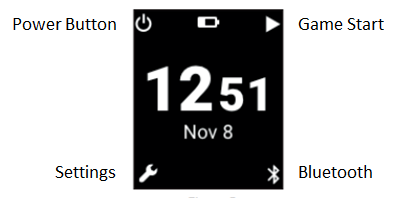 Top left button– Pressing the top left button will power down your watch. You will be asked to confirm the power down.
Bottom left button– Will take you into the settings section of the watch.
Top right button– Before starting your round you must select a game mode, pressing this button takes you to the game mode selection screen.
Bottom right button– In order to connect the watch to the Shot Scope app on a mobile or tablet device you will need to put the watch into Bluetooth mode. You do this by pressing the bottom right button on the watch.