This article will explain how to sync a course onto the watch using the desktop app.

Courses must be loaded on to the V2 band before playing in order to receive GPS distances. To add courses to be synced, you must navigate to "courses" on the main menu, select courses and then 'Find Courses'. You can then search for the course you require by name or based on location:
Simply enter the name of the course in the search tab.
Alternatively, use your current location by selecting the "nearby" tab. This will show courses nearby to your selected home course.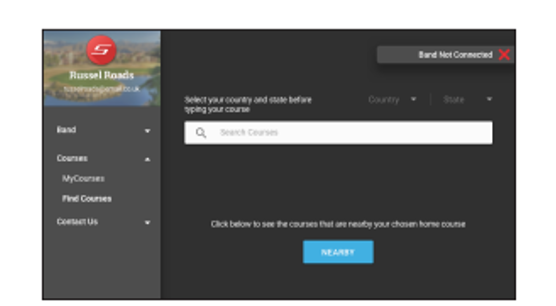 Once you have found the course that you are looking for simply click the tick box to add it to your courses, a tick will confirm that the course has been added.

You then need to navigate to the 'My Courses' page located down the left side. If you have any courses that are ready to be synced to the watch a 'Sync' button will appear at the bottom of the screen, click on this button and all ready courses will be synced onto the watch.
My Courses status explained
The colour of a course will change depending on its download status.
Green – Mapped and synced.
The course is synced to your band, mapped and ready to play. The card will be shown in green with a tick icon. If mapping updates have taken place, a plus icon will be shown.
Blue – Mapped, not synced.
The course is not synced to your band but is mapped and ready to download
Orange – Mapping in progress
The course is currently being mapped and will be ready to play within 3 days.