This article will explain how to view distances to hazards and all lay up points.
When playing in GPS+Track or GPS mode press the top left button beside the hazards icon to access distances to bunkers and water hazards.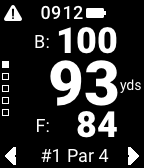 On this screen, the nearest two hazards over 100 yards will be presented to you unless there is only one or no hazards on the hole. A bunker hazard will have an icon representing a bunker shape and a water hazard will have a water icon.
Each hazard icon will be positioned either on the left side of the screen or at the right side of the screen to indicate the hazards location relevant to the hole layout. If the hazard is on the left side of the hole the numbers will be on the right side and vice versa.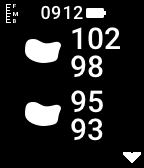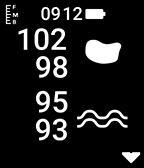 Beside each hazard will be two numbers, the first number will indicate the distance to the front of the hazard and the second will be to the back of the hazard. As you walk towards these hazards, the distances will update. Once you have passed the hazard, it will disappear from the screen and the new nearest hazard will be the first hazard displayed.
If you wish to see hazards that are further away on the hole, press the top-right button beside the upwards arrow icon. This will move the hazards screen up one hazard meaning that you are now viewing on the second and third nearest hazards. If there is no arrow icon on display, this means that there are no further hazards and you are currently viewing the furthest away hazard. If you wish to return to viewing hazards that are nearer to you, press the bottom right button beside the downwards arrow icon, if there is no arrow on display, then you are viewing the nearest hazard.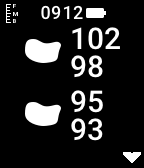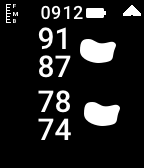 To navigate back to the front/middle/back screen, press the top left button beside the ruler icon.