Opting In
The first time you enter leaderboards you will need to verify your information and opt in, this can be done on both the online dashboard and the mobile apps.
To navigate to the leaderboards section of the online dashboard click here.
To navigate to the leaderboards section on the mobile apps tap on the 'Compete' option in the 'More' section of the menu.
Your handicap and nationality will be pre-populated and you can make any necessary changes using the drop-downs. Once you are happy with the information you must tick the box to agree to sharing data and then press the 'Compete' button.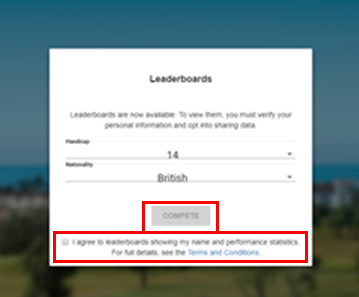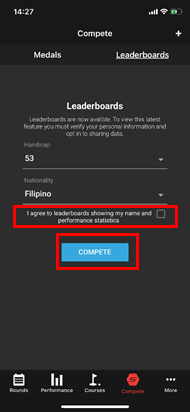 Opting Out
If you no longer want to take part in leaderboards then all you have to do is opt out. This option is contained within your account settings on dashboard only. Once you have opted out you will be removed from all leaderboards that you were competing in.